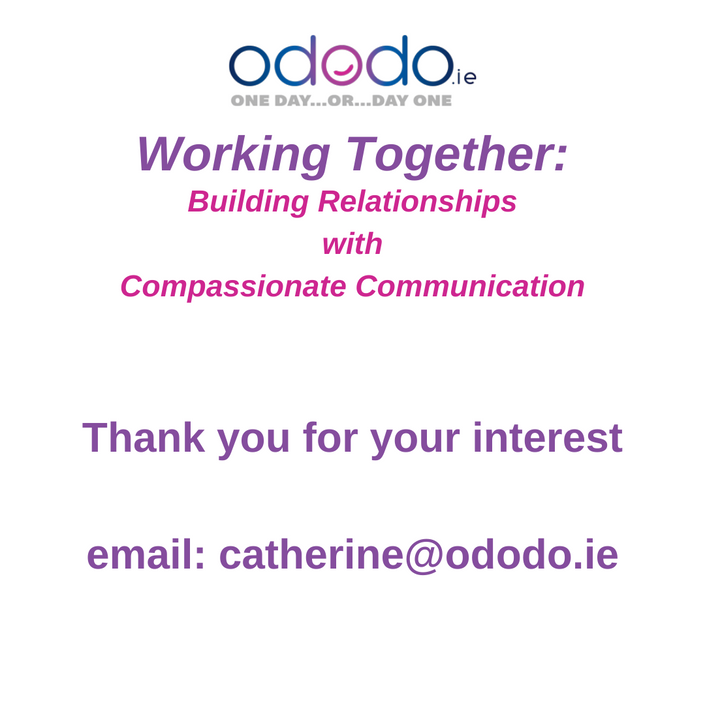 Working Together: Building Relationships with Compassionate Communication - July 2020
Dept. of Education approved 2020 Summer Course
What is Compassionate Communication?
Compassionate Communication gives you tools to develop and understand your roles in different relationships. It gives you a new perspective and develops your self-awareness. This in turn, fine tunes how you respond to different situations.
You are provided with a toolbox to become more balanced, autonomous and nurturing of yourself and how you converse with others.
At the end of this course, you have positive communication strategies that support your well-being.
__________________
Throughout the course, the focus is on you and your well-being.


When you return to your school in September, you will have had a period of time to absorb your new learning and thus implement them into your teachings in a very natural way.
How we communicate with ourselves and others has a profound impact on our individual experience of the world we live in.
This course gives you a toolbox to reach into in times of anxiety and worry.
Compassionate Communication allows your message to have profound impact.
How does this apply to my schoolwork?
At the end of this course, you have tools to implement a classroom and whole-school SSE Well-Being policy.
"This course has exceeded my expectations radically. I want to congratulate everyone who assembled and delivered it. Thank you most sincerely for the experience" -past participant
The Course includes:

Five Modules

Four Hours per Module

10 Hours online learning

10 Hours self-verified learning
Compassionate Communication promotes the Four Key Areas of Well-Being as laid out in the Well-Being Policy Statement and Framework of Practice.
This course is closed for enrollment.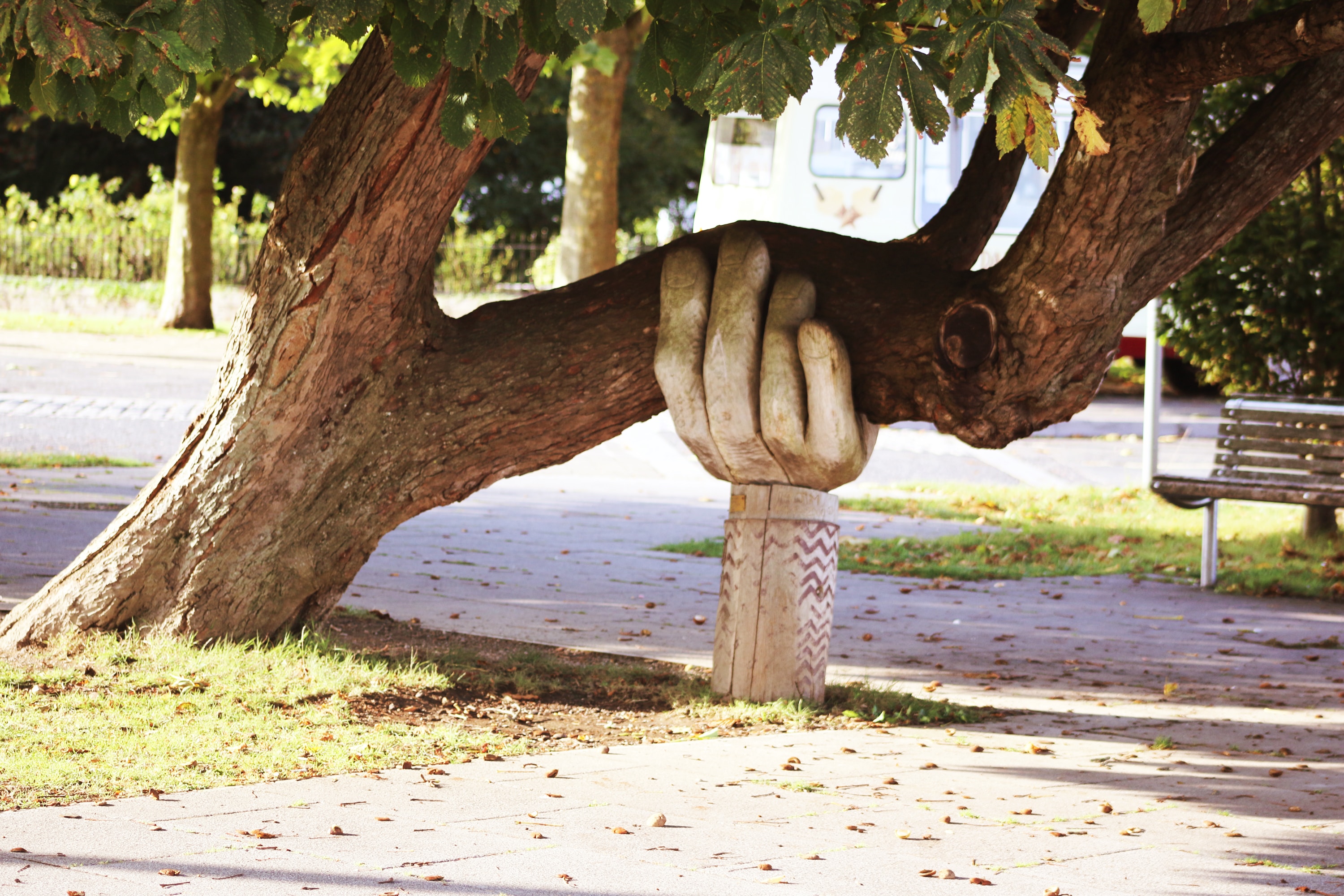 Support to Help you with Covid-19
When your school reopens, you and your students will have been away from the classroom for nearly 6 months.
Going forward, our mental well-being is very important as we navigate the stress, anxieties and fears that we and our students may have picked up during this pandemic.
An optional module has been added to this course that will help you and your students going forward. It will cover how to unpack feelings and fears, increasing the students emotional literacy and bringing more awareness to any given moment when one can feel a panic or anxiety arising.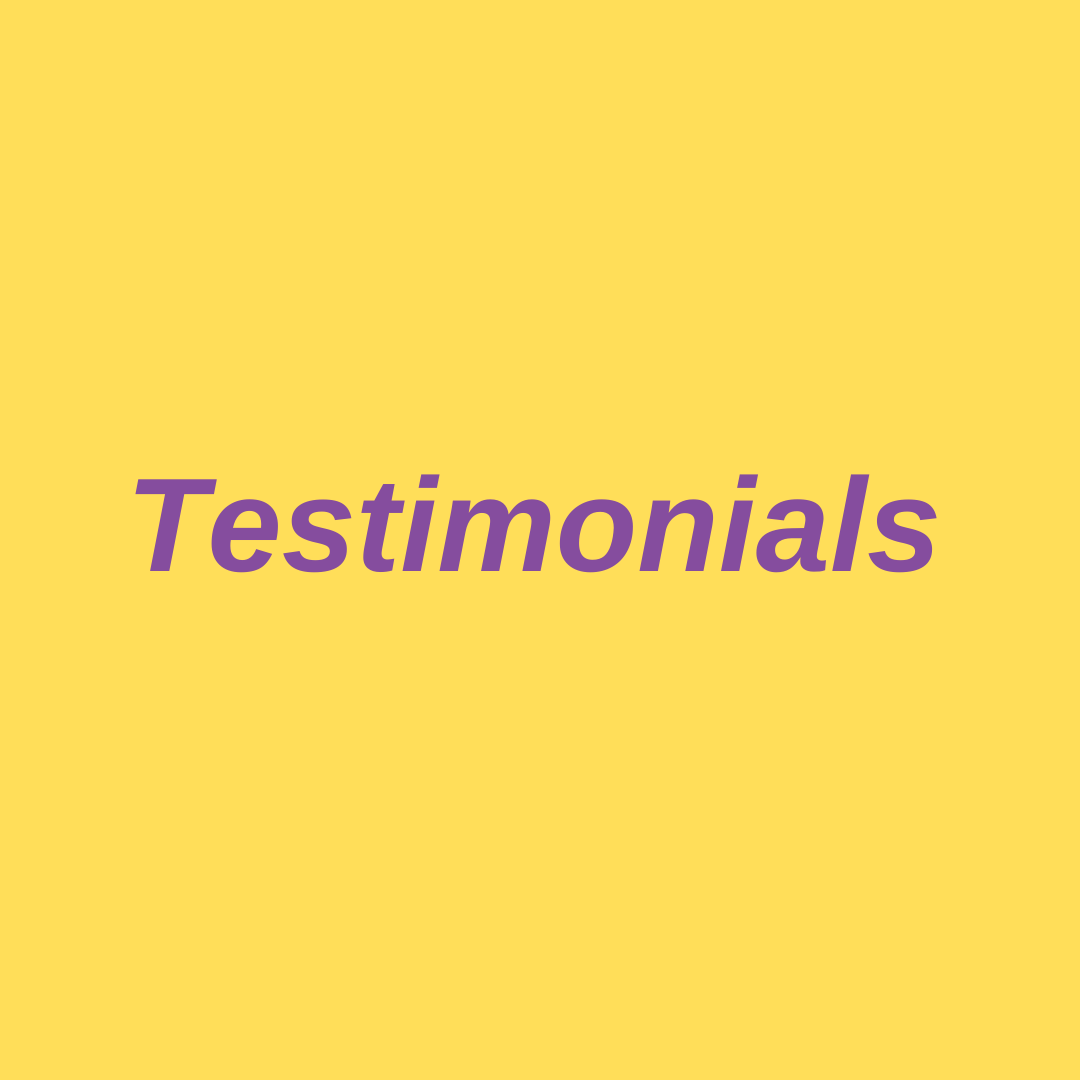 "The best course I have done in years. It is just so practical. No fluff, nothing here that cannot be achieved. It is simply great"
- Loreta, Principal, July 2019
"Lovely course, please provide more of the same, I learnt so much about myself and working with others"
- Maureen, Classroom teacher, July 2019
"This course was absolutely excellent, so focused and intelligent and very interesting, obviously the result of great research and experience"
- Brian, Principal, July 2019

"This course will undoubtedly benefit me both professionally and personally"
- Thomas, Classroom teacher, July 2019
Course Curriculum
Getting Started
Available in days
days after you enroll
Learning Record
Available in days
days after you enroll
Course Workbook
Available in days
days after you enroll
Frequently Asked Questions
When does the course start and finish?
You have the month of July 2020 to complete this course.
What is the format of the course
This course has 10 hours of online learning and 10 hours of self-verified offline learning.
Am I entitled to an EPV certificate?
Absolutely. Once you complete the learning log and send it back in you will be emailed your Department of Education verified Certificate of Completion.
Can I access the course on my mobile phone?
You can, however, it is much easier to navigate the course content and discussion boards when you work from a laptop or desktop computer.
Is this course suitable for Special Needs Schools?
Yes. There are strategies given for all age groups and suggestions on how to adapt certain exercises to suit students' needs.
Is it ok if I don't start on July 1st?
Yes of course, you have the month of July to complete this course.
How is this course tutor supported?
I am online to answer questions and moderate the discussion boards. If you have any questions before this, you can email me
[email protected]
This course is closed for enrollment.